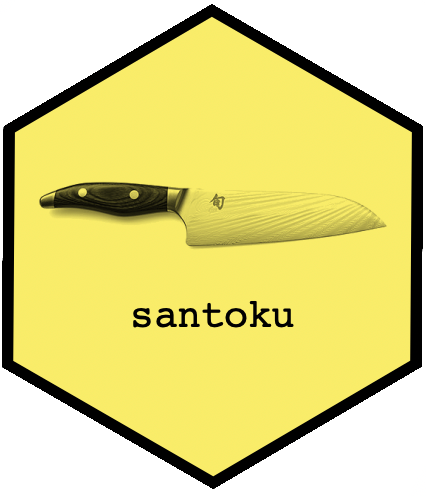 Introduction to santoku
Source:
vignettes/santoku.Rmd
santoku.Rmd
Introduction
Santoku is a package for cutting data into intervals. It provides a replacement for base R's cut() function.
Installation
To install santoku, run:
Basic usage
Use chop() like cut() to cut your data up:
chop() returns a factor.
If data is beyond the limits of breaks, they will be extended automatically:
To chop a single number into a separate category, put the number twice in breaks:
To quickly produce a table of chopped data, use tab():
More ways to chop
To chop into fixed-width intervals, starting at the minimum value, use chop_width():
To chop into exactly intervals fixed-with intervals, use chop_evenly():
To chop into groups with a fixed number of members, use chop_n():
To chop into a fixed number of equal-sized groups, use chop_equally():
To chop data up by quantiles, use chop_quantiles():
To chop data by standard deviations around the mean, use chop_mean_sd():
To chop data into attractive intervals, use chop_pretty(). This selects intervals which are a multiple of 2, 5 or 10. It's useful for producing bar plots.
tab_n(), tab_width(), and friends act similarly to tab(), calling the related chop_* function and then table() on the result.
You can chop dates too:
Advanced usage
You can change factor labels with the labels argument:
You need as many labels as there are intervals - one fewer than length(breaks) if your data doesn't extend beyond breaks, one more than length(breaks) if it does.
To label intervals with a dash, use lbl_dash():
To label integer data, use lbl_discrete(). It uses more informative right endpoints:
You can customize the first or last labels:
To label intervals in order use lbl_seq():
You can use numerals or even roman numerals:
Other labelling functions include:
By default, chop() extends breaks if necessary. If you don't want that, set extend = FALSE:
Data outside the range of breaks will become NA.
By default, intervals are closed on the left, i.e. they include their left endpoints. If you want right-closed intervals, set left = FALSE:
If you want to close off the last interval, set close_end = TRUE: